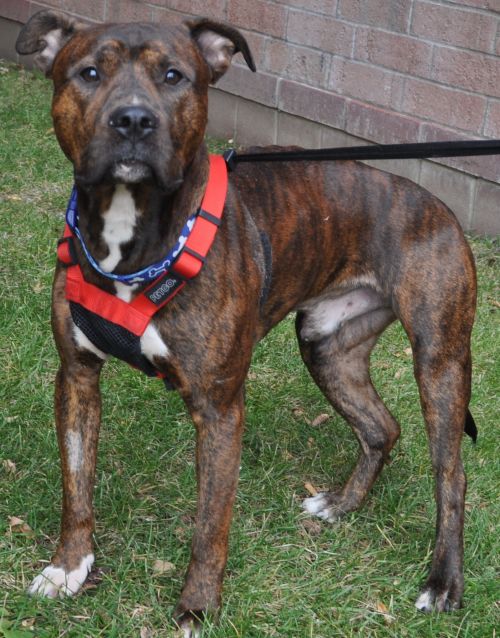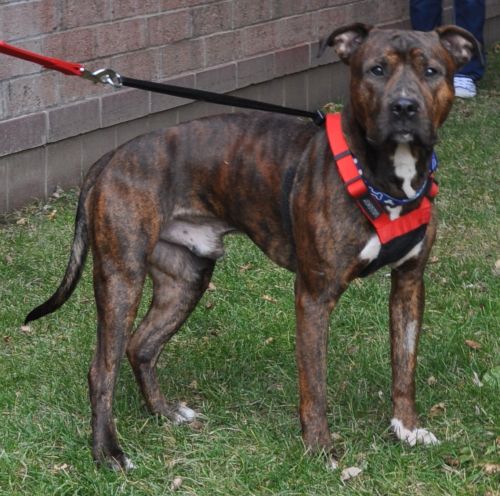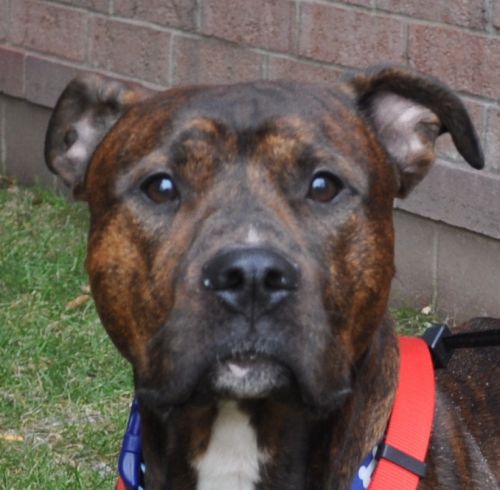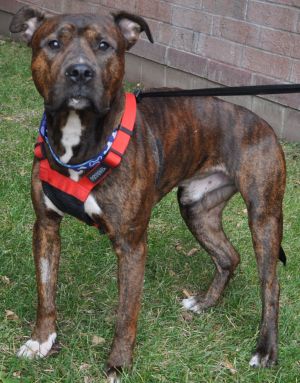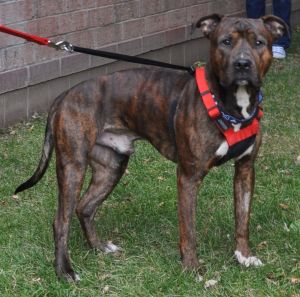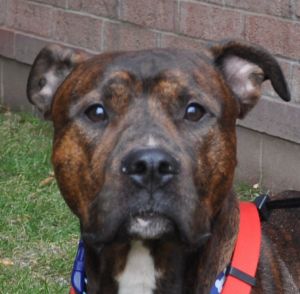 Joey
Pit Bull Terrier
American Staffordshire Terrier
If you are interested in any of the dogs available at New Leash Rescue, you can reach out to the foster listed below for more information and then complete an adoption application which can be found at https://www.newleashrescue.org/adopt/policy. Please email the completed application to newleashrescue2018@gmail.com

Joey is a one year old Staffordshire terrier mix looking for a new home.
Joey was not treated well in his previous home, but you wouldn't know it. He is looking for a family that will love him and treat him right.

Four children under age ten were in the home and didn't respect Joey and weren't taught manners and boundaries. For this reason, Joey wants a home with no young kids - his home needs to be at least 10 and up woth respectful children who know how to treat dogs.

Joey is a great boy who deserves a wonderful home. It has been a joy seeing Joey blossom in his foster home over the last four months. He begs for table scraps and loves to chew on Nylabones. He's also fantastic at helping with computer work. If you sit at the table, he will come over to lay his head in your lap. He is playful with other dogs too - he has done good with them since day one. He does well with his housetraining. He would love a fenced in yard to run and play in safely. Joey would do best in a quieter home. He will bark at visitors who come over, but he will warm up to them faster when they give him tasty treats.

Joey doesn't like crates, but does good being left out during the day and he will sleep on the bed snuggled up to you if he is allowed. He is quite the cuddle bug!

Joey is really a good boy. He just needs a home where he will be treated like a dog should be treated. He sleeps and snuggles with his foster every night. He is a cuddly boy who deserves his chance at a real home.

Adoption fee is $300.00 + tax (no checks)

Foster to contact: Katie - 605-695-5126 (text preferred) or krkallemeyn@hotmail.com

Joey will not be at an adoption event so contact the foster to learn more!

Our fosters do the best they can to provide all information about the animal's background and temperament while in foster care in their home. An adopters routine and home environment is likely going to be different than that in their foster home.

Sometimes there is more that comes out about a dog's personality once they have been able to settle in a home and truly become comfortable. There are great articles out there written about the different stages a pet goes through after adoption, discussing transitions that happen at 3 days, 3 weeks, and 3 months. We highly recommend reading about this - it will help you understand the transition your new pet goes through.
Powered by PetfinderTM