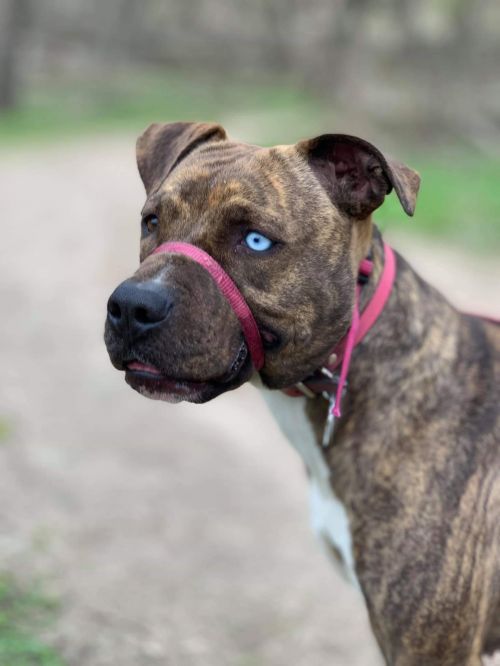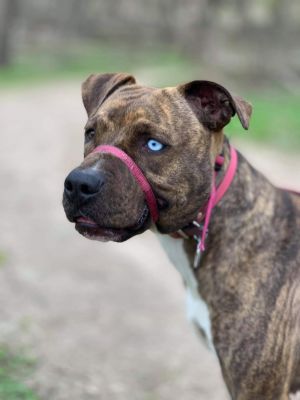 Nala
American Staffordshire Terrier
Husky
If you are interested in any of the dogs available at New Leash Rescue, you can reach out to the foster listed below for more information and then complete an adoption application which can be found at https://www.newleashrescue.org/adopt/policy. Please email the completed application to newleashrescue2018@gmail.com

Nala is around 2 years old mixed breed dog that came from a reservation in South Dakota, maybe a husky/terrier mix? She is very sweet. Seems content to just lay on the couch by you! She likes to chew on Nyla bones. She is crate trained and appears to be house broke. She had a litter of puppies, but they went to a different group. Nala is now spayed, just had a dental and is looking for a home to call her own.

Nala has adjusted to her foster home and is doing great.  She loves cuddle time and it always next to somebody in the house.  She really wants to learn and knows sit, her name, and comes often.  She watches you to know what to do. She is calm most of the time in the house but loves walks and the ability to run zoomies in the yard.  She loves other dogs, but still learning a gentle type of play. This is the same with humans.  She wants to play so bad, but does not understand that dogs don't use their mouths on their human friends. We put a toy in her mouth instead.  We have seen this getting better already.  For this reason we suggest a person comfortable with training and older kids who understand how to redirect a dog. Nala will make a great companion!

Adoption fee is $300 + tax (no checks)

Foster to contact: Pauline @ 952-454-8095 or pauline.alba@gmail.com


This dog will be at our adoption event at the Woodbury PetSmart on Saturday from 11-2 looking for a home!


Our fosters do the best they can to provide all information about the animal's background and temperament while in foster care in their home. An adopters routine and home environment is likely going to be different than that in their foster home. Sometimes there is more that comes out about a dog's personality once they have been able to settle in a home and truly become comfortable.

There are great articles out there written about the different stages a pet goes through after adoption, discussing transitions that happen at 3 days, 3 weeks, and 3 months. We highly recommend reading about this - it will help you understand the transition your new pet goes through.
Powered by PetfinderTM