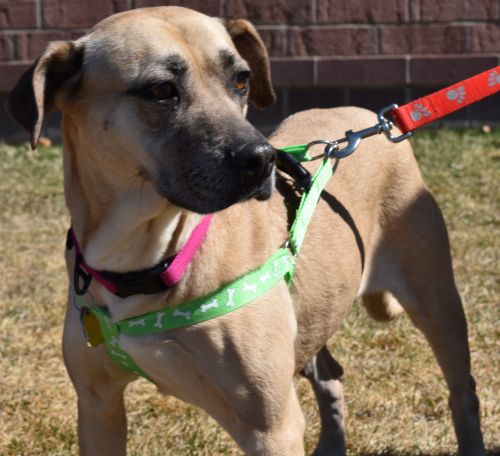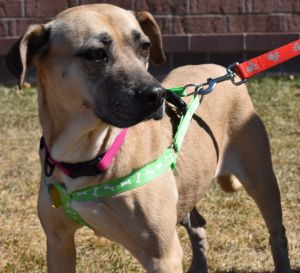 Geneveve
German Shepherd Dog
Yellow Labrador Retriever
If you are interested in any of the dogs available at New Leash Rescue, you can reach out to the foster listed below for more information and then complete an adoption application which can be found at https://www.newleashrescue.org/adopt/policy. Please email the completed application to newleashrescue2018@gmail.com

Geneveve is estimated to be around 5-6 years old, and we're thinking shepherd/lab mix. She weighs around 45-50 pounds. She's a super sweet girl who was found as a stray last November and was never claimed. She has been trying to find a new home in a shelter ever since, and she just came to us so she could be in a foster home and find that new forever home! Shelter type environments can be hard on the dogs after a few months.

Geneveve is good with people and good with other dogs. All dogs will need a housetraining refresher when moving to a new house and a new routine - after all, their whole world gets turned upside down when they move to a new place.

Geneveve just had a dental cleaning. She is also spayed and current on her vaccinations. She is heartworm tested negative, and started on preventatives as well as microchipped.

Adoption fee is $250 + tax (no checks)

Foster to contact Kim B - k.balder@hotmail.com or (507) 351-6647


This dog will not be at an adoption event. Please contact foster directly for more information.


Our fosters do the best they can to provide all information about the animal's background and temperament while in foster care in their home. An adopters routine and home environment is likely going to be different than that in their foster home. Sometimes there is more that comes out about a dog's personality once they have been able to settle in a home and truly become comfortable.

There are great articles out there written about the different stages a pet goes through after adoption, discussing transitions that happen at 3 days, 3 weeks, and 3 months. We highly recommend reading about this - it will help you understand the transition your new pet goes through.
Powered by PetfinderTM