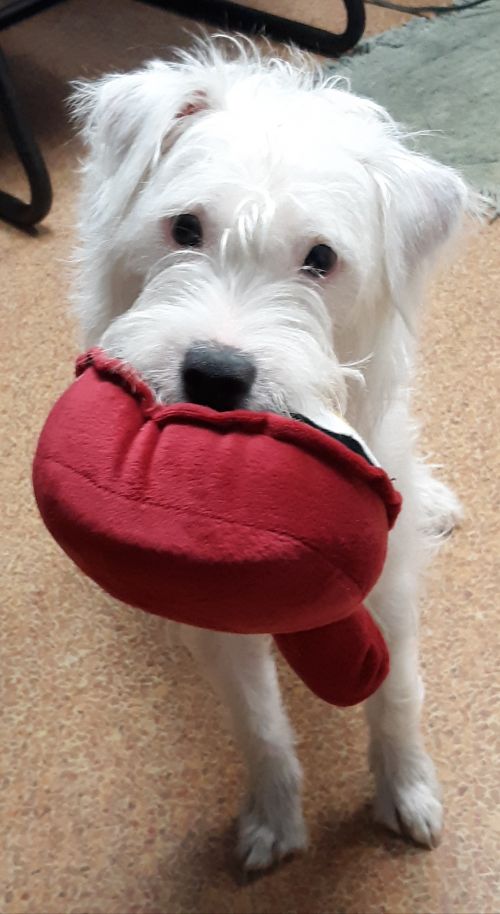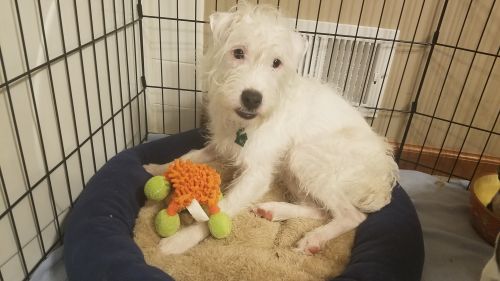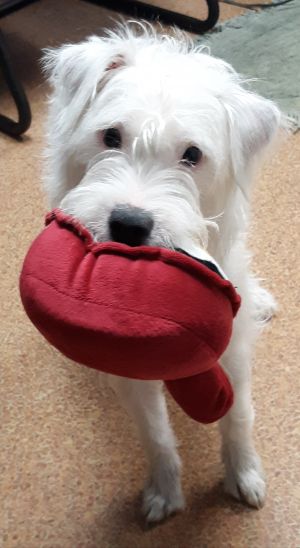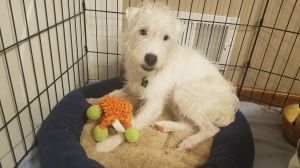 Auggie
If you are interested in any of the dogs available at New Leash Rescue, you can reach out to the foster listed below for more information and then complete an adoption application which can be found at https://www.newleashrescue.org/adopt/policy. Please email the completed application to newleashrescue2018@gmail.com

Auggie is around a year old and weighs 20 pounds. He is taller than you would think weighing 20lbs. He was found as a stray and never claimed. He is looking for a special, patient home that will give him the time he needs when he first moves to his new house. Auggie is a fantastic, wonderful dog. Once he knows you, he is affectionate, playful, cuddly guy, not to mention that he is just adorable.

When Auggie moves to a new place and his family that he knows is not with him, he gets very scared and defensive and will growl. An adopter will not be able to handle Auggie for up to the first day - an experienced adopter is needed.

The best thing for him is to just leave him in a laundry room or area where he can be completely by himself in his kennel for part of the day, and allow for him to process the change in his own terms. Once he realizes its okay, let him come to you. This process took about 12-24 hours when he first moved to his foster home. He is not a dog who is going to be running around and loving you the second he gets home - he definitely will...but it will take a little time. With this in mind, Auggie will likely not do well in boarding or any other situation where he is dropped off in a place he doesn't know very well and he doesn't have the comfort and confidence provided by having his people near him. He displays fear aggression in these types of situations.

When Auggie is with people he knows, he will bark at visitors or new people and he needs just needs time to warm up to them. He will bark at them for awhile. He is very food motivated, so visitors can give him super tasty treats and it will help him warm up to them.

Auggie is great with dogs of all sizes. He LOVES to chase a ball, but doesn't always bring it back. He also really enjoys chewing on Nylabones. Auggie has a little pad training but will also go potty outside. He will need a housetraining refresher course when he moves into a new house with a new routine. Auggie is kenneled when his foster is gone (he makes a little noise at first) and he sleeps on the bed at night.

Auggie will do best in a little bit of a quieter home that doesn't have constant visitors coming and going. He would also do better in a home around kids 10 and up.

Auggie is the sweetest guy, he just needs a little patience in the beginning and then he blossoms into the most fun boy there is.
Auggie is neutered, microchipped, and heartworm negative. He is current on vaccinations, dewormed, and on preventatives.

Adoption fee is $350.00 + tax (no checks)

Foster to contact: Kim 507-351-6647 or k.balder@hotmail.com

Please reach out to the foster and find out if this dog will be attending one of our upcoming adoption events at the Woodbury PetSmart on Saturday.


Our fosters do the best they can to provide all information about the animal's background and temperament while in foster care in their home. An adopters routine and home environment is likely going to be different than that in their foster home.

Sometimes there is more that comes out about a dog's personality once they have been able to settle in a home and truly become comfortable. There are great articles out there written about the different stages a pet goes through after adoption, discussing transitions that happen at 3 days, 3 weeks, and 3 months. We highly recommend reading about this - it will help you understand the transition your new pet goes through.
Powered by PetfinderTM