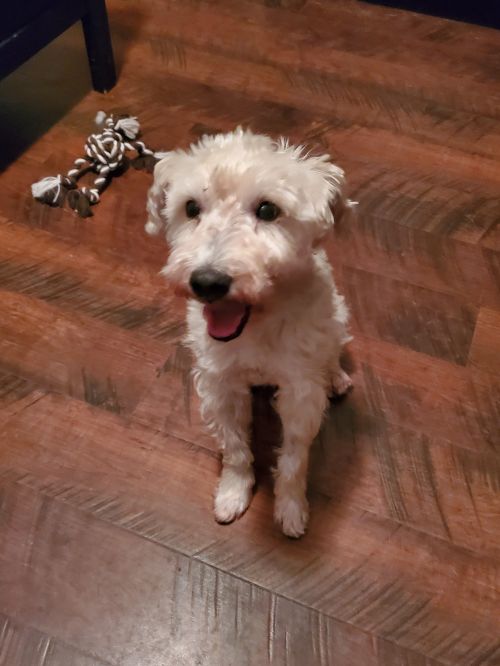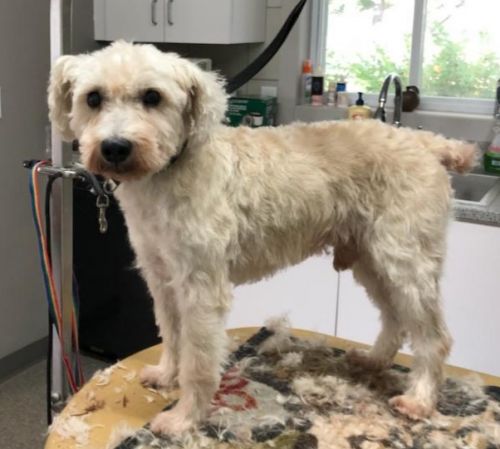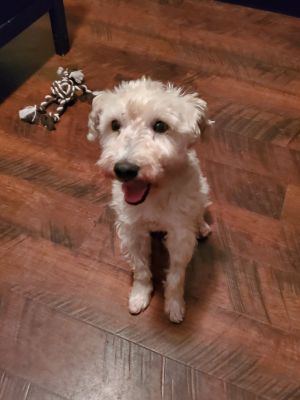 Fritz
Miniature Poodle
Miniature Schnauzer
If you are interested in any of the dogs available at New Leash Rescue, you can reach out to the foster listed below for more information and then complete an adoption application which can be found at https://www.newleashrescue.org/adopt/policy. Please email the completed application to newleashrescue2018@gmail.com

Fritz is estimated to be 5-7 years old and came to us as a stray from a local impound. He is looking for his forever home to call his own. He weighs 20lbs and based off appearance looks to be a poodle mix.

Fritz likes to be with people and he is good with other dogs of all sizes. He has not been around cats that we are aware of, and he has not been around kids under age 7 at this point. He is doing pretty well on his housetraining in his foster home - the first couple days there is always a chance for accidents when learning a new routine, but he has done well ever since.

He will sleep on the bed if he's allowed to and will sleep off to the side or the end of the bed. He isn't a dog that thinks he always needs to be right on top of you.

He will make some noise when people leave, or if he knows his people are home and he can't be with you. He will calm down after a bit, but we would not recommend him for a home with shared walls where barking might be a concern.

Fritz has been groomed, neutered, and he also had a dental cleaning and had six teeth removed that were in bad shape. He will need additional dental care in the future, just like any other dog who is aging.
He is also updated on vaccines, microchipped, and had bloodwork done.

Adoption fee is $350.00 + tax (no checks)

Foster to contact: Katie - 605-695-5126 (text preferred) or krkallemeyn@hotmail.com

This dog will be at our adoption event at the Woodbury PetSmart on Saturday from 11-2 looking for a home!


Our fosters do the best they can to provide all information about the animal's background and temperament while in foster care in their home. An adopters routine and home environment is likely going to be different than that in their foster home.

Sometimes there is more that comes out about a dog's personality once they have been able to settle in a home and truly become comfortable. There are great articles out there written about the different stages a pet goes through after adoption, discussing transitions that happen at 3 days, 3 weeks, and 3 months. We highly recommend reading about this - it will help you understand the transition your new pet goes through.
Powered by PetfinderTM